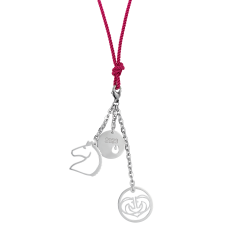 Handmade Lucky Charm 2023 Necklace with Fuchsia Cotton Cord
Handmade necklace with three symbolic elements made of white gold-plated bronze and silver-coloured steel chains hanging by a clasp from a fuchsia cotton cord.
The cord's length is 80 cm but you can adjust it to any shorter length. 
The elements that I chose are designs from my original 14K gold equestrian collection and each one has a unique meaning for the new year but also for every moment of our life. 
The horse symbolises strength. Two horses in a heart symbolise love. Finally, the horseshoe in the round slab symbolises luck in the circle of life.
I wish that 2023 brings you all of them!